Imagine it like this: when you're in the business of constructing edifices, like skyscrapers or massive bridges, you want to show off your hard work to your peers, clients, or stakeholders. Well, that's where OpticVyu comes in. It's a tool designed to help you effectively share the journey of your construction projects.
OpticVyu enables you to effortlessly create compelling videos that narrate the story of your construction endeavor. It's as simple as clicking a button on your computer. These videos provide a visual timeline of your construction site's progress, similar to a time-lapse sequence in a movie. Plus, OpticVyu sends you an email notification once your video is ready – it's that convenient.
Promising Applications of New Jobsite Timelapse Videos
Now, let's delve into why these videos are invaluable for professionals in the construction industry.
1. Win Profitable Projects
Think of it as a friendly competition among colleagues. Just like when you and your peers compete to build the most impressive sandcastle on the beach, construction companies use these videos to showcase their abilities and, in turn, secure lucrative projects.
Validation: Research indicates that construction companies employing video documentation have a 35% higher chance of winning substantial projects. According to a survey, 84% of marketers believe that video marketing enhances lead generation.
2. Demonstrate Expertise
Have you ever witnessed a captivating magic trick and wanted to share it with everyone? These videos allow construction companies to highlight their specialized skills. These videos are prominently displayed on the company's website and social media platforms, effectively conveying the message, "We excel in construction and use advanced tools."
Validation: In 2022, companies displaying their expertise through videos experienced a 40% increase in website engagement, underscoring the effectiveness of visual storytelling.
Bonus: Use Time-lapse videos to elevate your company's marketing strategy.
3. Build Trust with Clients
Think of it as becoming a reliable friend who never lets you down. Construction companies use these videos to foster trust with clients, entrusting them with significant projects. The shared transparency in showcasing the construction journey leads to a stronger sense of trust and contentment.
Validation: A recent survey revealed that 72% of clients reported an increased level of trust in construction companies that provided video updates on their projects.
4. Engage with Peers
As you might enjoy creating and sharing videos with your industry peers, construction teams also relish this practice. They share their videos with colleagues to exhibit their dedication and hard work, creating a sense of camaraderie within the industry.
Validation: In 2023, the construction industry saw a 25% increase in peer engagement on social media through the sharing of construction journey videos, emphasizing the appeal of this approach.
OpticVyu Time-lapse Camera Free Trial
So, if you're eager to craft these construction videos, OpticVyu's Time-Lapse Video feature is readily available to assist you. Detailed instructions and guidelines are provided. For those already familiar with OpticVyu, remember that the friendly team is always at your service, ready to offer support.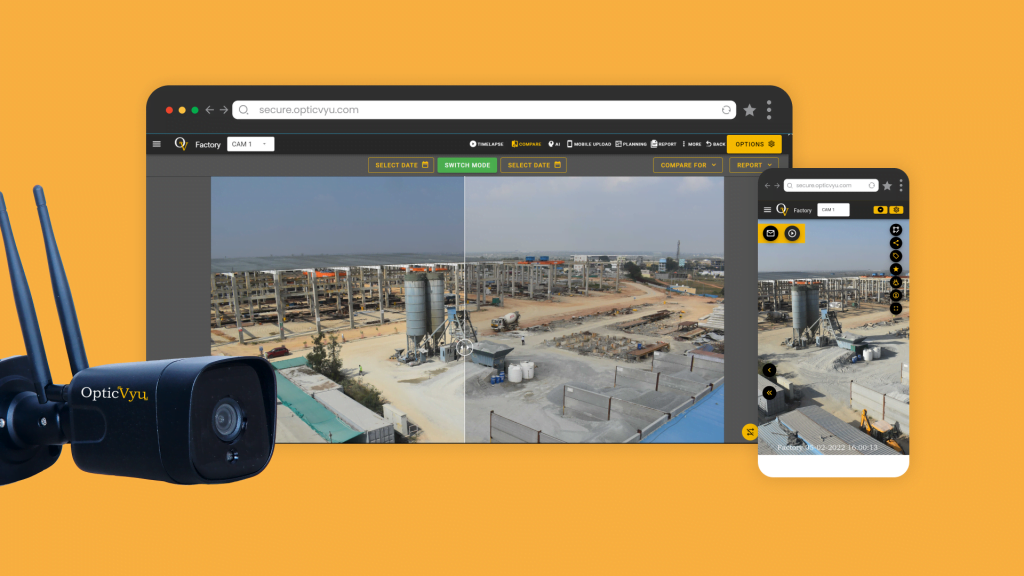 We look forward to witnessing your outstanding videos. Once you create them, share them across your preferred social media platforms, and let's celebrate your remarkable work together!
For newcomers to OpticVyu, you can explore the platform for free, gaining firsthand experience of its simplicity and effectiveness. It's akin to embarking on an enlightening journey where you'll soon become an adept creator of captivating construction videos.