Air pollution due to construction goes unnoticed and is one of the foremost aspects. A study by Delhi Pollution Control Committee (DPCC) declares that 30% of air pollution in Delhi is caused due to construction pollution (PM2.5, PM10 dust particles produced from construction sites).
The prominent construction contaminants that spread around by air include PM10, VOCs, Gases, and asbestos. 
PM air quality monitoring sensor integrated OpticVyu construction camera can measure the PM2.5 and PM10 at your construction and demolition project sites. OpticVyu's air quality monitoring module provides a detailed air quality report dashboard of your construction project site.
Table of Content
What is PM 2.5/10?
The abbreviation PM stands for Particulate Matter. PM 2.5/10 are the minute particles found in the air, and exposure to those is harmful to health. These particles are so minute that you can not see them with naked eyes.
PM 2.5 refers to the particulate matter with less than 2.5-micrometer diameter, and PM 10 refers to the particulate matter with less than 10-micrometer diameter.
Sources of Particulate Matter
Solid and liquid particles that are small enough to be inhaled constitute particulate matter. There are several natural sources of PM, including sea salt, dust (such as airborne soil), and pollen. But there are also particles from volcanic eruptions and particles formed from natural gaseous precursors (such as sulfates).
To some extent, construction and demolition sites contribute to the particulate matter in the air.
Delhi Government Notice Regarding Construction Pollution Control
To mitigate the PM 2.5/10 air pollution problem, the government issued a strict notice regarding the construction pollution at the project sites in Delhi NCR and other regions that come under the Commission for Air Quality and Management (CAQM). The rules in the notice are as follows:-
In a recent announcement, the Government announced that a tool would be introduced to ensure pollution control rules are being implemented properly.
It is mandatory for projects of construction and demolition covering 500 square meters or more to register at the web portal if they fall under Delhi-NCR.
To observe pollution control measures effectively, video fencing that is also easily accessible with remote 4G connectivity should be integrated with the web portal.
To protect the environment from particulate matter, PM10, and PM2.5, construction and demolition sites must be equipped with inexpensive and accurate sensors. CPCB, government, and other government bodies should be able to access the sensors' live data at all times.
PM Air Quality Monitoring Sensor Construction Camera by OpticVyu
OpticVyu is India's leading construction camera & time-lapse service provider. OpticVyu has integrated construction cameras with Air quality detectors to showcase the image+air quality data on a single dashboard for numerous construction projects. The cost will be the same as construction camera charges + 9500/- one-time air quality sensor setup & configuration charges.
The air quality monitoring sensor will be integrated with the construction camera. It can be placed beside the camera or separately on-site. The output will be visible on the same dashboard where camera feeds are available. Option available to send real-time data directly to government portal via APIs. We'll update our camera-AQI sensor codes to upload data directly to the DPCC portal.
Faqs About Air Quality Monitoring for Construction
What is acceptable air quality?
As per CPCB, a Good AQI is 0 – 50 and falls under Minimal impact. Below AQI 200, Air Quality is acceptable.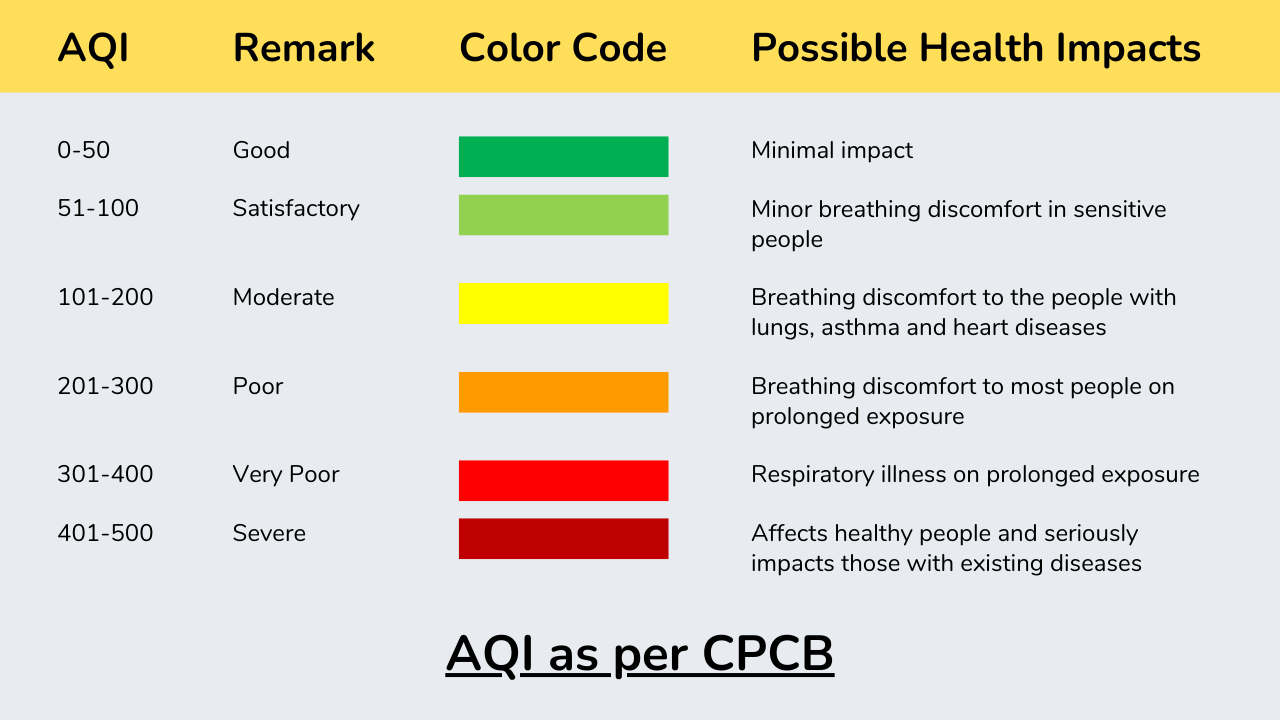 How is construction site air quality measured?
The construction site's air quality can be measured using the devices equipped with PM 2.5/10 air quality detection sensors (Like OpticVyu's construction camera with PM air quality detection module).
What are the principal sources of particulate matter?
There are several natural sources of PM, including sea salt, dust, and pollen. Still, there are particles from volcanic eruptions, particles formed from natural gaseous precursors, and particles from construction and demolition sites.
How does OpticVyu's PM air quality detection module work?
OpticVyu site engineer installs a PM 2.5/10 air quality detection module integrated with the construction camera and connects it with the OpticVyu dashboard to show the site's air quality data.