India's largest hockey stadium, Birsa Munda international hockey stadium Rourkela India is finally completed and claimed a Guinness World Record for being the world's largest hockey stadium. It was one of two venues chosen for the FIH Men's Hockey World Cup.
The 'biggest stadium' of the world was built within 15 months with an expenditure of Rs 261 crore, Chief Minister Naveen Patnaik announced during the opening ceremony. The stadium has been named after the tribal leader, Birsa Munda (Famous Freedom Fighter).
Birsa Munda Hockey Stadium Construction Monitoring By OpticVyu
OpticVyu got an opportunity to monitor the construction progress of India's largest hockey stadium.
Project Marketing
The project is of extreme importance to the Indian sports association & the fast pace of construction of such a big project will set a benchmark for many more upcoming projects in the country. That's why the progress videos showing the extraordinary work progress have to be generated & shared to create transparency with the common man & for showcasing the sports infrastructure development in India to the international media.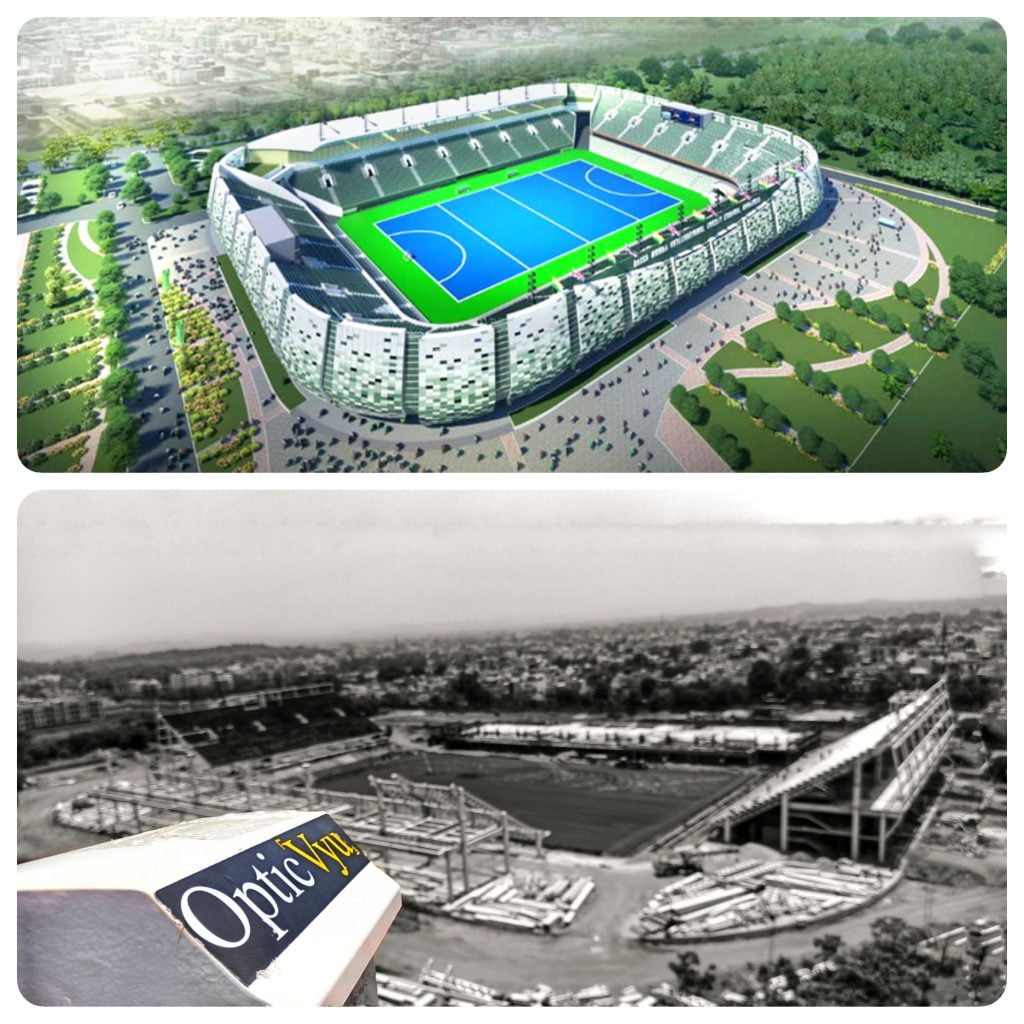 The Challenge: Regular Progress Update
As it's a government-owned project, several officials want to stay updated on its progress.
The stadium is built to host the 2023 Men's FIH Hockey world cup, so the sports officials also want progress updates on their desktops.
In this project, OpticVyu's main challenge was to keep everyone in the loop of regular progress updates on the construction of the Hockey Stadium.
The Solution: OpticVyu Time-lapse Camera
OpticVyu is India's leading provider of construction time-lapse monitoring services.
OpticVyu site engineer ensured the camera installation in a place where the camera captures the maximum possible area.
For such a high-profile project, OpticVyu's main focus was to provide high-quality progress time-lapse videos. These time lapses were being internally shared to keep everyone updated on the project's progress.
At the end of the project, OpticVyu delivered a professionally edited, complete project time-lapse video for all government officials to use in the press release (or for other purposes).
Final Words
The final time-lapse video of the Birsa Munda Stadium construction delivered huge branding and PR benefits for everyone involved in the project. The time-lapse monitoring solution provided to the Birsa Munda Hockey Stadium project team has helped them coordinate accordingly. Also, the final construction progress time-lapse of the Birsa Munda project is featured by National Geography.
Are you looking for a great time-lapse camera or time-lapse monitoring solution for your construction projects?
Contact us to get a free time-lapse camera quote.